Court information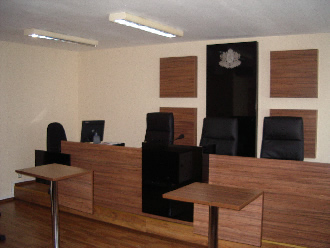 The Administrative Court, Sofia City is the biggest of the 28 administrative courts in the Republic of Bulgaria created in the process of the judicial reform after the promulgation of the new Administrative Procedure Code. The number of employees in the ACSC is 260, 68 of them being judges.
Highly qualified employees in the registry and record departments of the Administrative Court, Sofia City accept complaints and petitions lodged by natural and legal persons against acts of the state and municipality administration; they render assistance in the completion of correspondence and provide data about the movement of lawsuits.
In the lawyers office in the court the parties in a legal dispute and their procedural representatives have a full access to court documents and acts.
This web site and the information contained therein manifest the desire of the Administrative Court, Sofia City to be of use to the community and to assist the access to justice; to guarantee the publicity of the judicial process.
The ACSC is endeavoring through professionalism and maximum transparency to build up the confidence of the public in the judiciary system, justice and the important role of administrative courts in protecting lawfulness in the Republic of Bulgaria.